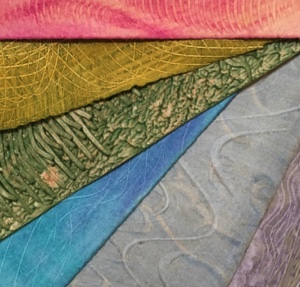 Spend an afternoon making pasted paper and pasted cloth. Pasted paper is one of the earliest forms of decorative papers for use in bookbinding, calligraphy, printmaking, collage, stamping, and origami. With a few adjustments, the same techniques and materials can be adapted to use with cloth.This class will be held in my studio. The studio is not ADA compliant.
NOTE: Advance registration required. Registration is through Art Students League of Denver. Workshop hours are 11am-4pm on July 21.
About Ravenpress
Publisher of limited edition artists' book works.
In 1996 I made my first limited edition bookwork – Tool Box. Although I didn't have any training in bookbinding, I jumped right in. It was evident that my knowledge, experience and skills were not up to my vision for that first book.
I set out to gain skill with tools, materials and methods; some new to me but many familiar from years of studio work in other fields. I surmised that creating miniatures would be a good way to develop finer handskills and work through ideas quickly. So many of my early edition bookworks are miniatures.
To discover a world of collectors of the miniature was a lovely surprise – and I still cherish the connections I made through the world of the miniature limited edition artists' books. I learned a lot from publishing miniature books in edition and I still occasionally publish titles in this genre; some of those early titles are still in print.
Ravenpress editions are small, most fewer than 25. I do not work in letterpress so these books are created with a combination of digital and hand-worked means. The digital arsenal includes laserprinting, color toner printing, occasional color inkjet printing, laser cutting and etching.
I use various printmaking techniques such as intaglio, relief printing, silkscreen, woodblock/cut, solvent transfers and monoprinting in my books. Materials range from the norms of bound books (book board, paper, cloth, leather, thread) to less typical materials such as glass, wood, ceramic and various plastics.